SPOTV: We would like to welcome a new member to LCK. Please give up for ShowMaker and Hoit of Damwon Gaming! How does it feel to join LCK?
ShowMaker: I've been toiling so hard towards this moment, and I've been even more determined to be promoted after we fell just short of promotion during 2018 Spring. I'm glad my hard efforts have come to a fruition.
ShowMaker: In the previous match against BBQ I was disappointed in my own performance, and I had a lot of regrets. I'm glad I've made a satisfactory performance today.
You certainly showed some great performance today, especially on Katarina!
ShowMaker: To be honest, I didn't even have Katarina in my mind. I was about to pick another champion. Then Hoit, our support next to me, said "Oh! Katarina?". I exclamated locked in Katarina straight away. I don't think I've performed badly on her.
Let's also have a chat with Hoit, then!
Hoit: I've been playing very hard on this team for the last 2 years. I'm glad to have finally been promoted. As of the games today, I've been satisfied with my performance today.
ShowMaker: Yeah, I'd say the support carried today's games.
Your Rakan, especially, was eye-popping at today's match. There are some players in LCK who are also very good at Rakan.
Hoit: I am a Rakan jang-in (Master) and I also think I'm the best Rakan player out there, so we will have some competition. Tusin, I believe, especially is amazing on Rakan. I'm ready to show my Rakan plays to Tusin in LCK.
Also let's hear it from Nuclear, the ADC of Damwon! Nuclear, you are already a familiar face in LCK. Being promoted and returning to LCK must certainly be bittersweet for you.
Nuclear: When I was promoted to LCK in 2016, I cried. This time I don't feel much, I was very confident that Damwon Gaming will be promoted. I am certainly happy, but I am also sure that we have a lot more to go.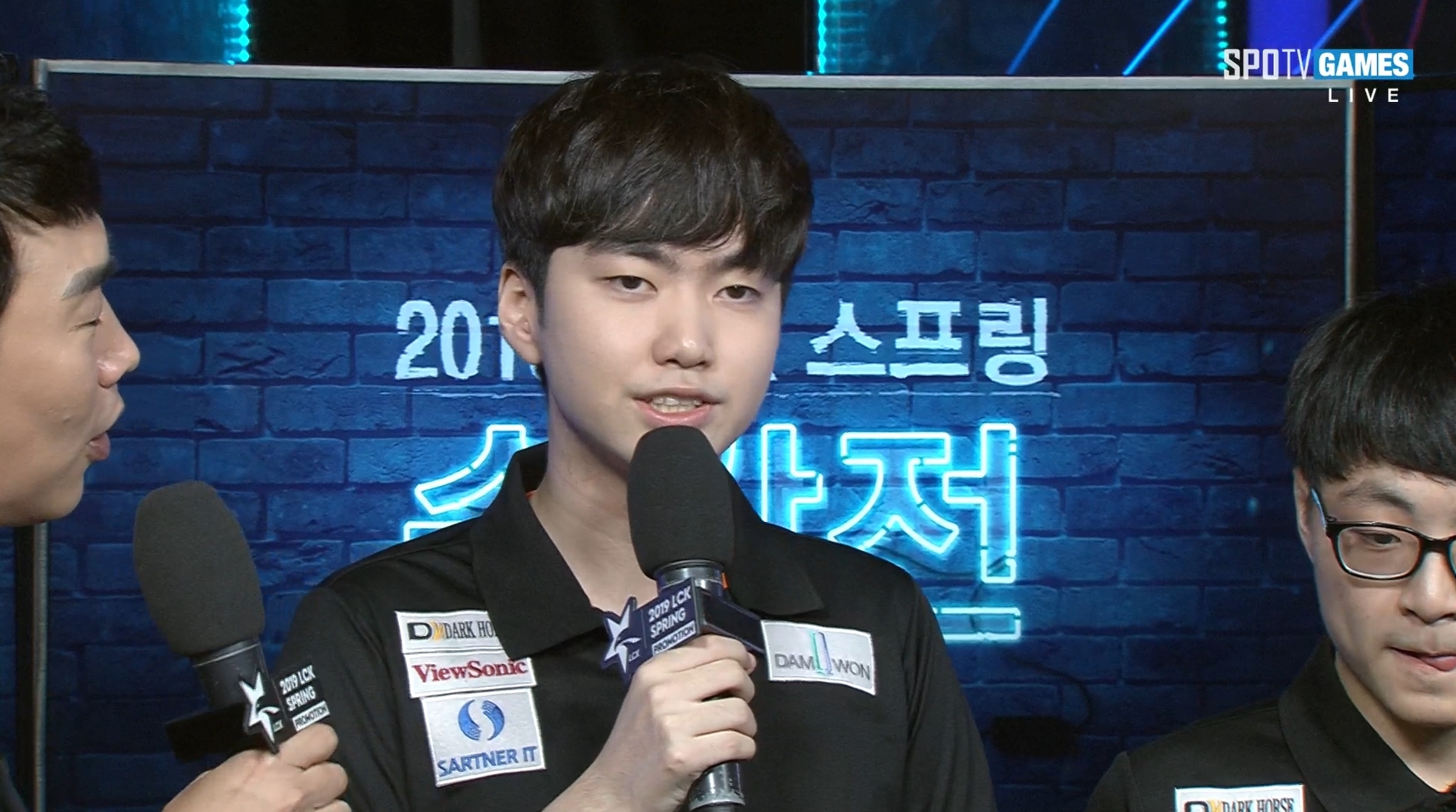 Griffin, who were promoted before you, set such a high expectation in LCK already!
Nuclear: When I was in Challengers Korea, I've never played against Griffin. But when I get into LCK I'll go against Griffin, which I think will be fun.
You've also played with Lehends, now the supporter of Griffin. How would you compare Lehends and Hoit?
Nuclear: THey are both…"out-of-control" supports. The two players are both young and talented, and also won't listen to what you say. If I were to compare the two I'd say this – no personal feeling – I work better with Hoit now.
Hoit: What do you mean now?
What would it feel to play against Lehends at LCK next year?
Nuclear: I'll try my best to win.
Nuclear, you had some unrealistic KDA today. 
Nuclear: When I play, my teammates try to give me all the kills. Between us we always say "If I get the kills, we will never lose the game." So that's why I think I was funneled with all the kills The quadra-kill especially was sweet.
Let's say hello to Punch, the jungler Damwon. It's been a while! A lot of LCK fans would have.
Punch: Hello, I am Punch. I was KDM's jungler last year.
Many people in the audience will still remember you from your KDM days.
Punch: I played for KDM last year. I'll be honest – I didn't have a good look last year, and I know the public image of me as a player is bad at the moment. This year, I'll grit my teeth and perform well, so make sure to expect more from me.
Finally, we will invite this player who's been the talk of the town even before today's match. Give it up for Nuguri!
Nuguri: Hello, I am Nuguri; the top-laner for Damwon Gaming.
There have been so many rumors about you and your performance, Nuguri. That all top teams should be trying to scout you as the top laner. What do you think about your performance today, Nuguri?
Nuguri: I wasn't able to show my plays, and I am not satisfied about today's match. As a team, we have won and I am happy for the team but regretful for my own performance.